Steel Decking – An Environmentally Sound, Lifetime Surface for Your Dock.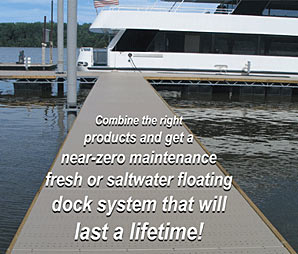 Steel Decking's patent pending design delivers an ultra strong, environmentally-friendly decking surface with a life expectancy of up to 50 years that requires near zero maintenance under even the toughest fresh and saltwater conditions.

Designed For Durability, Safety And Comfort 
At the core of Steel Decking is 14-gauge virgin steel combined with 35% recycled steel. On its surface is a field-proven weather resistant PVC coating that is textured to provide an all-season slip resistant deck.

Additionally, Steel Decking panels are perforated for fast run off of surface water, snow and ice; to dissipate lift pressure from storms and turbulent water action; and provide light penetration from above. And the insulating properties of the PVC coating leave the surface cool to bare feet even in the heat of the Arizona sun.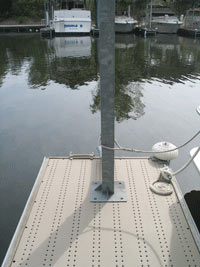 Unmatched Panel Strength With Flexible Panel Sizes
Steel Decking panels accommodate stringers spans of 24″ to 48″ on center while supporting up to 2915 lbs per square foot. Where building codes allow, new dock construction cost may be reduced significantly with these greater spans.
With seven standard rectangular panel sizes ranging from 24″ x 48″ to 48″ x 72″,and a 45 degree corner, Steel Decking panels make your decking projects fast and easy. Panels can be cut with conventional tools to fit around pilings and roof supports. Exposed steel is simply re-coated using a patch tube of the same PVC product that air dries quickly to form a complete waterproof seal.
Steel Decking Is An Environmentally-Friendly, Cost Saving Solution For Your Docks
The expected life of a Steel Decking panel is 40 to 50 years. This far exceeds the 15 year life expectancy, or less, of other decking materials that will need to be replaced two or three times during Steel Decking's lifetime. And ongoing maintenance on Steel Decking is near-zero. So Steel Decking not only protects you against the cost of multiple re-decking projects and regular maintenance costs, but it also saves on landfill and recycling charges common with other decking types. A marina or dock system with Steel Decking is truly a "clean marina."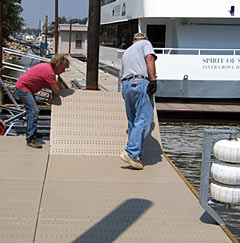 Panels Install 6X Faster Than Other Decking
Steel Decking can be installed typically in 1/6 the time of traditional decking materials and without the waste common from cutting wood and composite decking.
Panels can be attached to dock frames through pre-drilled mounting holes with as few as four TEK screws on steel or aluminum frames. With some dock frames and building code compliance panels may be laid in place without fasteners. In either case panels can be removed or lifted easily for access to under dock utility runs.
Panels can also be cut to fit around pilings, roof supports and other obstructions. Any exposed steel edges can then be coated using the PVC vinyl patch kit that comes with your Steel Decking shipment.
And with panel widths of 2′, 3′ and 4′ and panel lengths of 4′, 5′ and 6′, you'll be surprised with how fast your new deck can be installed.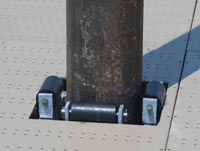 Steel Decking Can Add Strength to New or Old Dock Frames
Whether you are resurfacing existing dock frames or new frames, Steel Decking can become a structural member of your dock system when fastened to your frames at all points of connection that are provided in the Steel Decking panel.
Field-Tested PVC Coating and Perforations Provide Safe Surface
Actually it's better than that! Steel Decking's slip-resistant PVC coating is KID-tested. This is the same PVC material and coating process that has been used on commercial-grade playground equipment for over 20 years. No better test than a couple hundred kids at recess every day. Steel Decking is also perforated for fast run-off of surface water, snow and ice; and to minimize the lifting effects of wave splashes and surges from under the dock. And the perforations let light penetrate to the vegetation and aquatic life residing under the dock.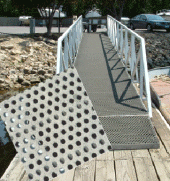 Slip-Free panels are custom fabricated to fit your ramps with a clear span of up to six (6) feet. Each panel is a perforated steel, aluminum or stainless covered with a hot-dip vinyl coating on all sides. Mineral granules are imbedded in the surface vinyl to provide a non-skid coating that is aggressive but tender to bare feet.
Easy to Install and Easy Access to Utilities Post Install
Under dock utilities can be difficult to access and time consuming with some decking products. Steel Decking panels can be lifted easily to expose a larger area under the decking for any utility work needed.
Panel Cutting
Panels are easy to cut to fit around pilings, power pedestals, roof supports and other walkway obstructions. Vinyl patch can be applied to freshly cut edges to seal them against weather and water.
Price Request
Please contact us by using the information below.